Boho meets branding: How to design logos in Boho style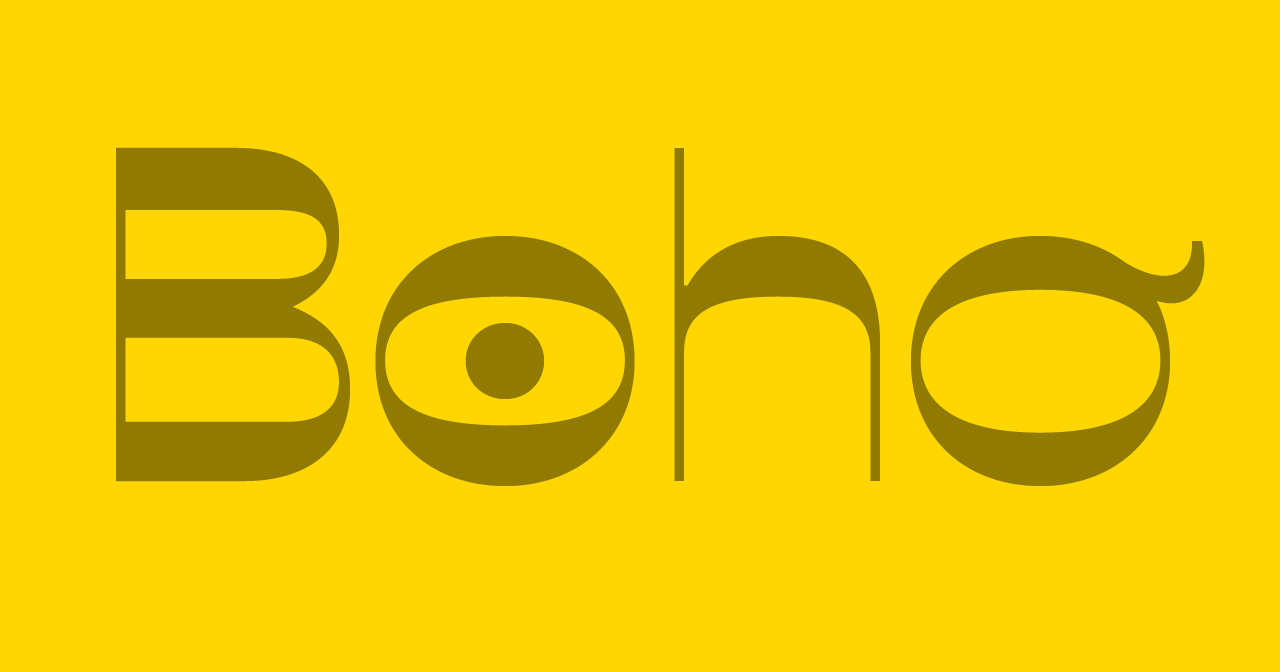 ---
What is a Boho logo style?
Boho, short for "Bohemian," is a style that's often associated with artists, writers, and intellectuals. It pulls inspiration from different cultures, historical periods, and nature.
In the same vein, Boho logos express a free spirit and unconventional living through a personal and natural lens using thinner font weights of serif and sans serif fonts, blended with romantic layering in earthy tones and cosmopolitan pattern-like logo symbols, alternatively to individualized wordmark styles.
Origins of Boho
The Bohemian aesthetic draws inspiration from the wandering way of life led by the Romani community between the late 1800s and early 1900s. The label 'Bohemian' comes from the French word 'Bohémien.' This term was historically linked to the Roma and an incorrect belief that their roots traced back to Bohemia, now the Eastern part of Czechia.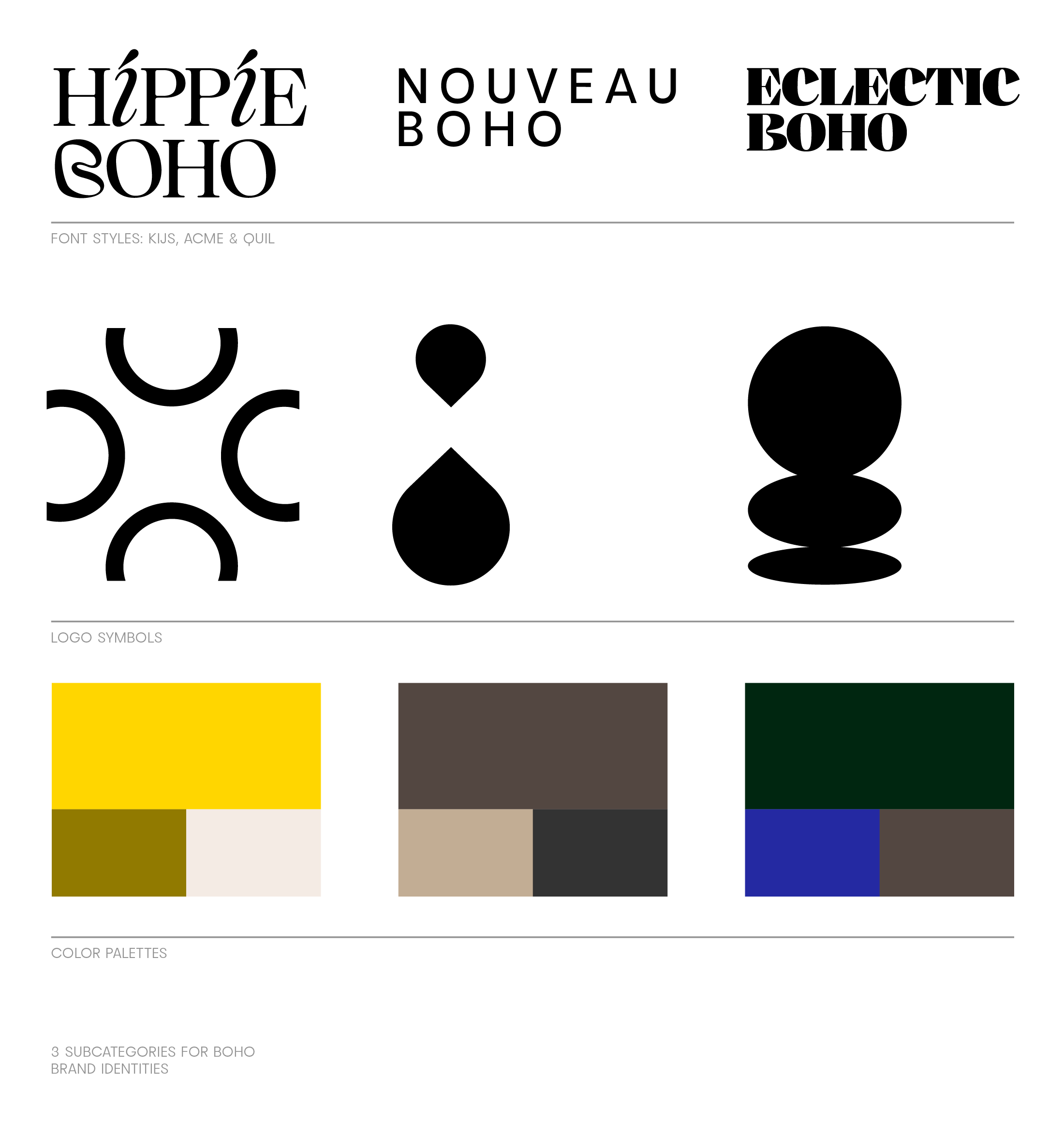 3 Boho subcategories—The Hippie, Nouveau, & Eclectic
The Boho style celebrates individuality, freedom, and a deep connection with the world around us.
The Boho umbrella aesthetic encompasses a couple of different subcategories that can be carried into a variety of design styles:
—The Hippie Boho
Personal and flowy: Natural, warm tones in lighter and medium colors, friendly, romantic handwriting, and thinner contrast and serif fonts, no logo symbol or a light, symmetric emblem such as a sun, rainbow, or rainshower; not too much color contrast.
—The Nouveau Boho
Chic and minimal: Earthy tones in lighter hues contrasted with darker accents, a more graphic appearance, thin and medium-weight font styles in both sans serif and serif fonts, skillful personalization of wordmark logo, wordmark logo in all caps with generous spacing.
—The Eclectic Boho
Established and polished: decorative or strong font choice with serif in medium and bolder weights, contrast fonts in all caps, no logo symbol or detailed, stamp-like mark. Darker color palettes in ochre, brown, and green hues. Patterns, layers, bold choices. No need for perfection.
Boho logo symbols
When it comes to designing logo marks, consider not using a symbol at all and consider going for a wordmark instead. Wordmarks are logos that consist of only text—they can look less corporate and more personal and minimal. In order to get your text logo to stand out, swap a letter out with a more unique-looking one. You can use our app to do that easily.
If you prefer to have a symbol, go for a geometric, free-form, or abstract style instead of a realistic mark. Check out some options below: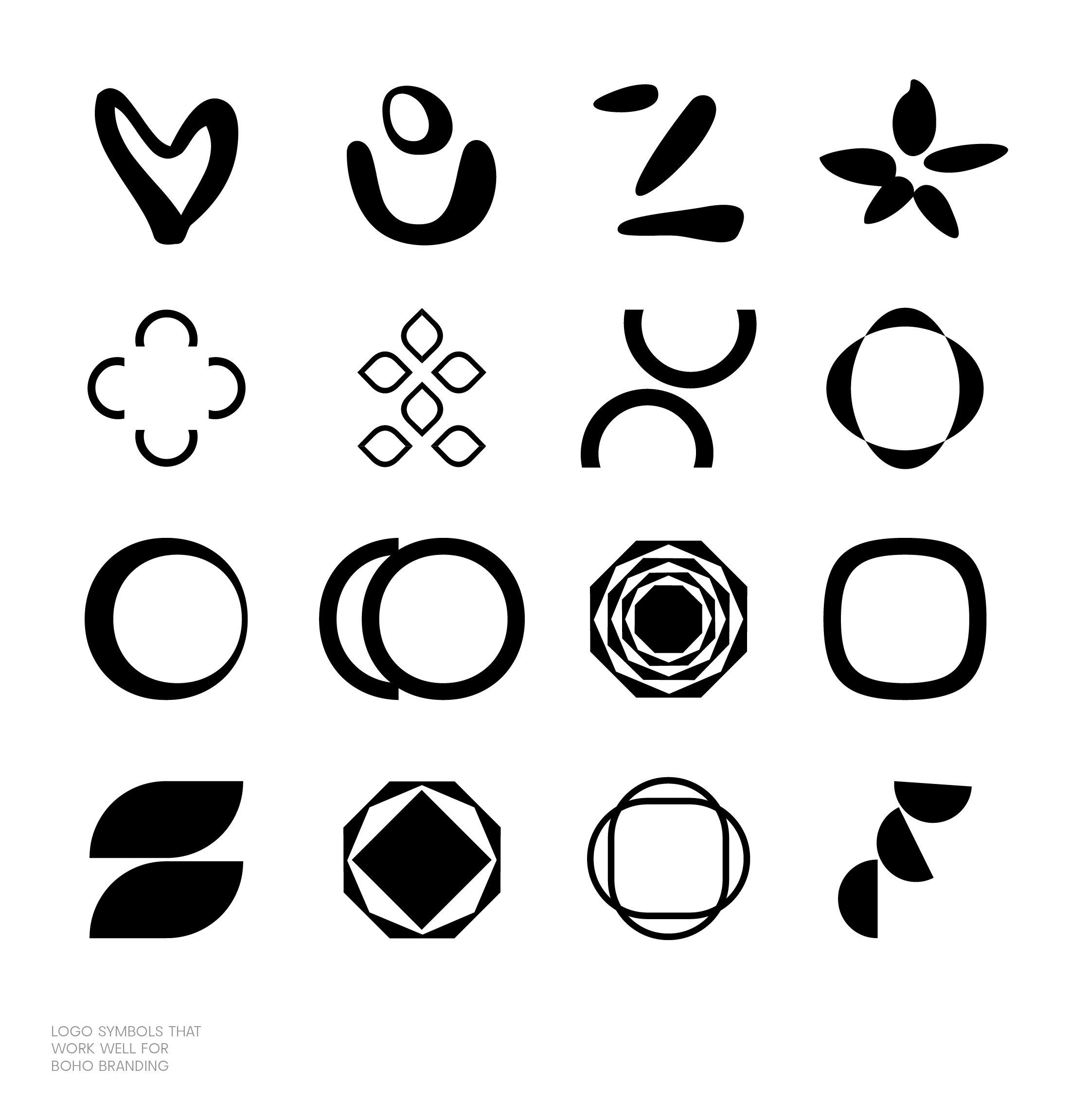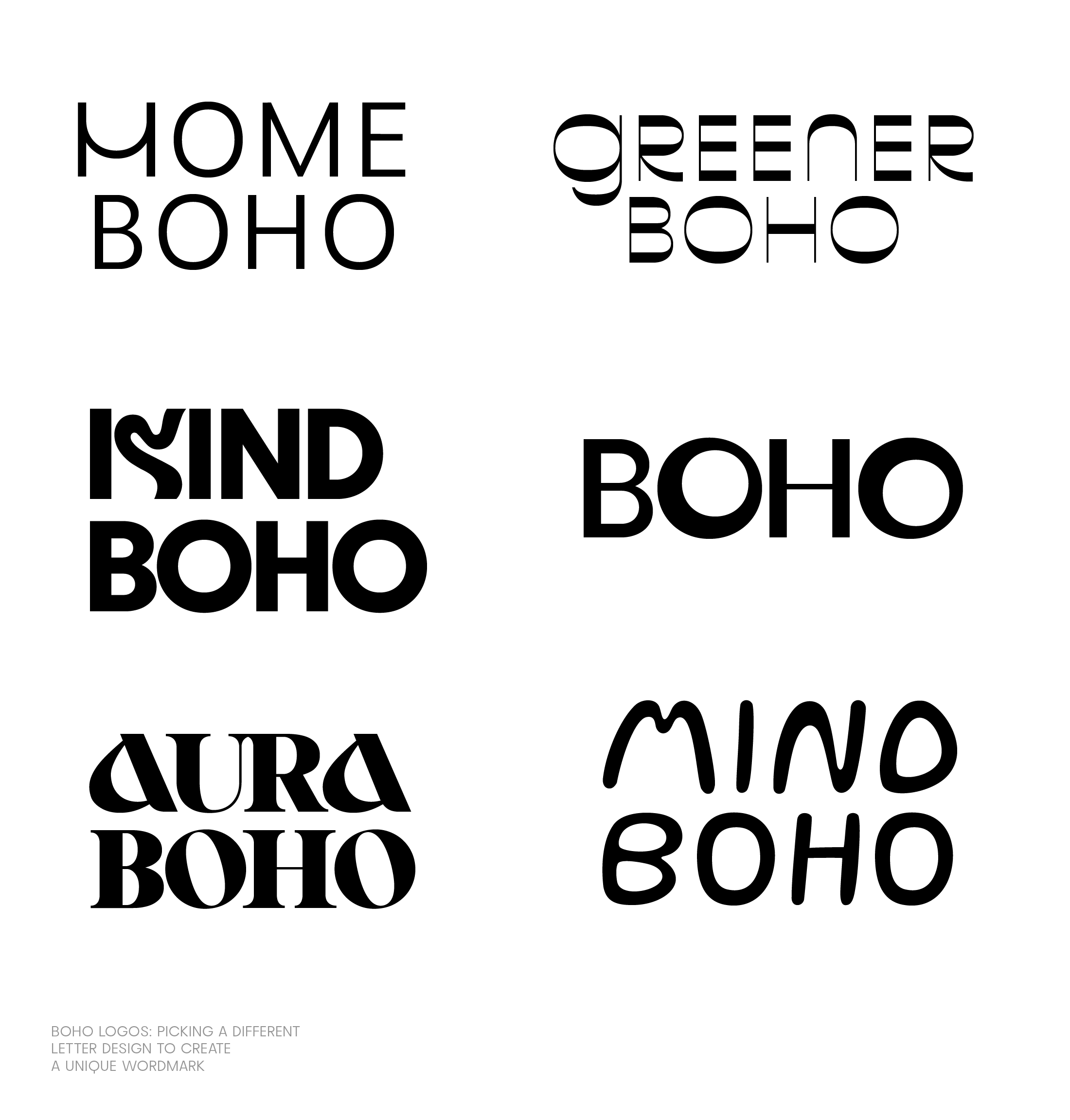 Boho font styles
Overall, you might find this collection of Boho fonts helpful for diving into different font styles that can be used for Boho logo designs.
Boho color palettes
Brand color palettes usually consist of three colors: a primary, secondary, and accent color. You can, of course, pick any number of colors but a palette of three with additional tints and shades (lighter and darker versions of the same color) are a great starting point. When building a brand kit, pick your main color first.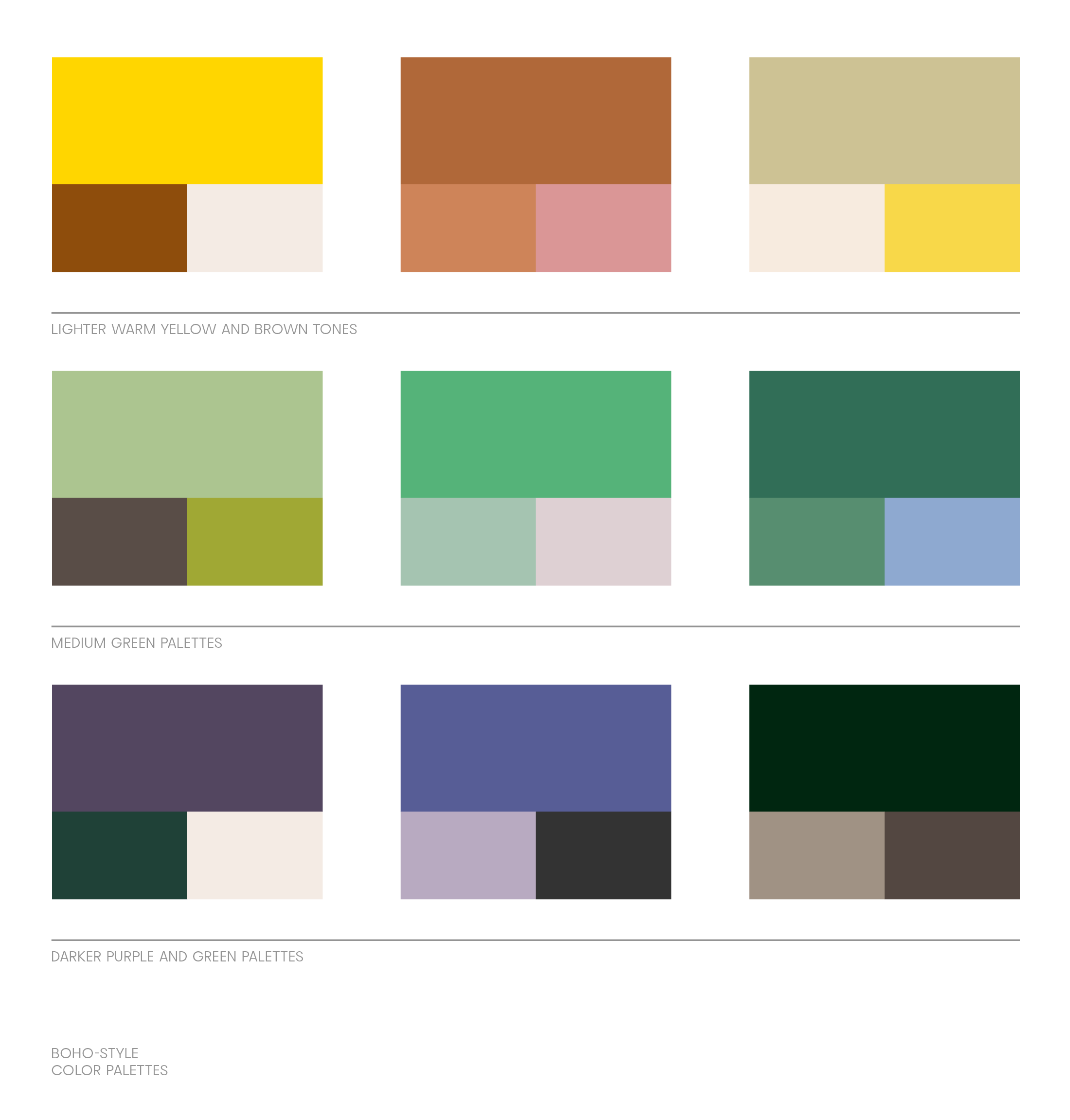 Where brands intersect with a Boho philosophy
An obvious fit is a brand incorporating the Boho philosophy in its products. Often, these brands are found in sectors such as home decor, jewelry, clothing, bags, shoes, wellness, and beauty. Food, farming, and community projects could also be a great fit.
Overall, you're aiming to:
1. Create an earthy, free-spirited brand identity.
2. Cater to a target audience that values individuality and a connection to nature.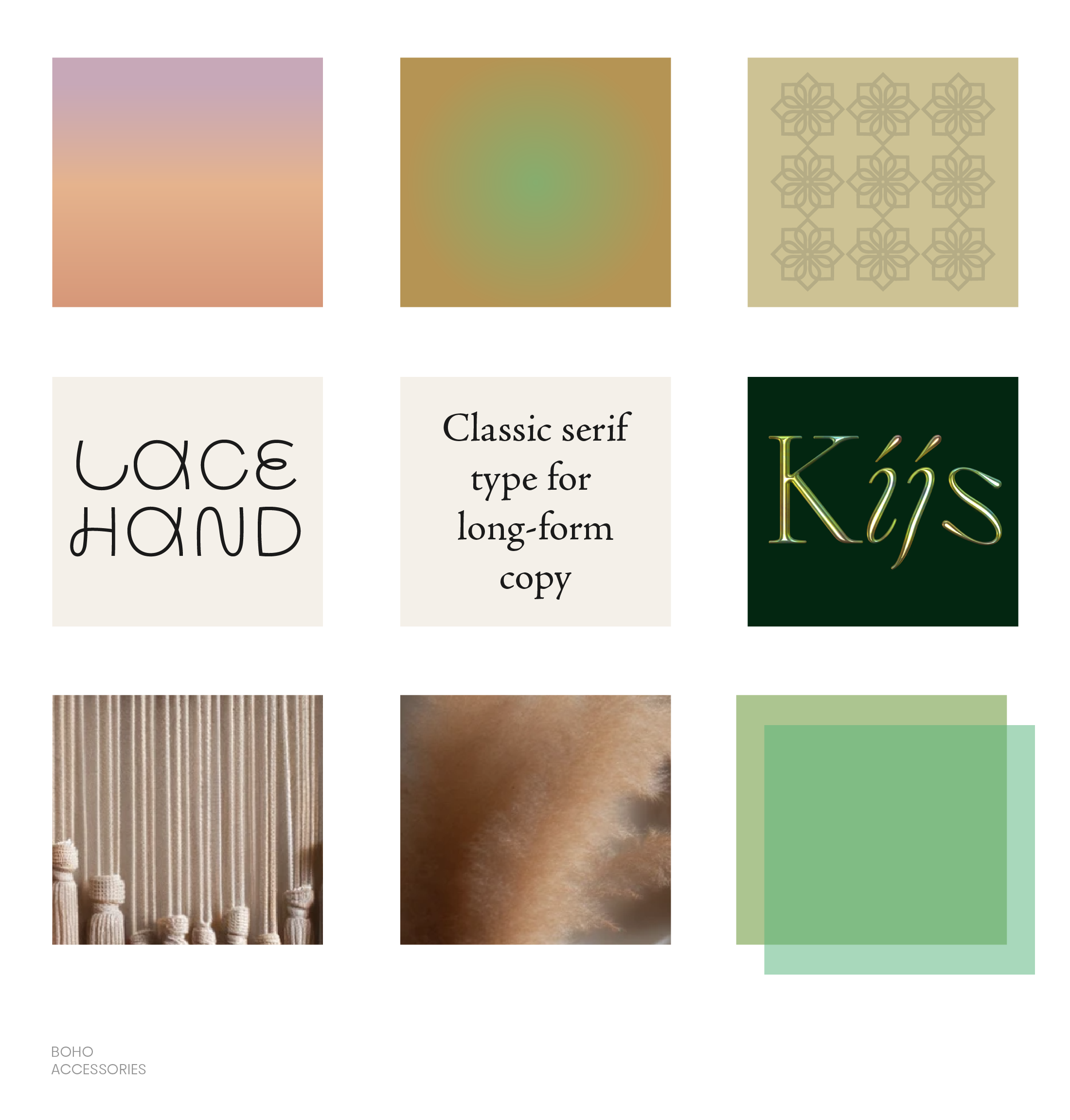 Boho visualization styles
—Layering: Boho style often mixes various colors, patterns, and textures. In fashion, these include flowy dresses and accessories. As for home decor, it's a mix of textiles, hanging plants, and floor cushions. In graphic design, you can use transparencies, gradients, fading, textures, and patterns to reinforce the idea of layering. Layering is also expressed through adding vintage elements—heirlooms are often mixed with contemporary pieces. Perhaps you want to use an old-style typeface paired with a modern one.
—Nature-inspired: Elements like plants, feathers, and natural materials are often used. When it comes to Boho branding, product shots can use plants and other natural accessories to complement the look.
—Craftsy look: Items that appear handmade, such as macramé, crochet, or other artisan crafts, are popular. Earthy color palettes in warm hues, muted pastels, and organic tones can support a craft look. Hand-drawn elements such as doodles and pen illustrations might add a whimsical feel. A handwritten display font like Lace and Skay can highlight the same feeling. You can also achieve a craft style using a serif font with wedged serifs, ideally in thinner weight styles to allude to the Boho airiness. It's best to use display fonts for headlines and titles and pair them with a secondary font that's easy to read for long-form copy.
—Cosmopolitan feel: The style incorporates motifs from diverse cultures, Eastern European, North African, and Indian designs. In graphic design, various cultural elements are easy to add through patterns—geometric symbols, floral elements, and paisley designs.
1. Type company name
2. Select design
3. Modify logo